Congratulations and thanks to all who made Imagined Worlds a spectacular reality!
BSA's 3rd annual all-arts festival, Imagined Worlds, centered on original mixed media and inter-disciplinary work, was a resounding success with sold out shows and standing ovations. The April 17 & 18 event featured The Codex Project, a cutting-edge performance piece inspired by the Italian architect and artist Luigi Serafini. The project was chosen as a 2015 Best of Baltimore for Innovation in the Arts by Baltimore Magazine.
The Codex Project was a world premiere with original dance, music, costumes, and state-of-the-art video projection created over the course of this year by BSA graduates, Katherine Helen Fisher and Nadia Sirota, and a group of other young nationally recognized artists, including Guggenheim fellow, Marcos Balter, as well as BSA's Arts Technologist Pat Galluzzo, and more than 100 BSA students. The Baltimore Sun's Tim Smith called the collaboration "a brave new swirl of dance, music and visuals." He was "quite taken with everything I saw and heard in this multimedia venture." To read his review and see his video, click here.
Imagined Worlds also included five short pieces designed and developed by multi-disciplinary teams of BSA student artists working together in the school's Center for Collaborative Arts & Technology. The opportunity for our students, faculty and alumni to develop Imagined Worlds was been truly enriching and exciting.
In his opening comments, BSA's Director Chris Ford lauded the students for rising to the challenge of preparing this complex work, "Students from every area of study at BSA have stepped up to the demanding standards these professionals exemplify. You will see the dancers, musicians & actors on-stage. And you need to know that our visual artists have created most of the visual elements and the stage design students have done most of the animation of those visual elements, as well as running the show."
He continued, "I want to briefly share the larger reasons we embarked on creating Imagined Worlds. We think the world of work—for artists and a lot of other people—is a world that requires collaboration, expertise and technology. The process of creating this evening's show has been a test for BSA. Is our community ready to collaborate for the greater good? Our students, are they able to use technology in powerful ways alongside more traditional media? What are the challenges in implementing this vision? We're still discovering the answers to these questions. And we're still considering the most creative ways to prepare our kids for their futures."
The Codex Project tells the story of scribe whose imaginary world comes to life. When an evil conjurer combines the scribe with his doppelganger, the twins must search for release in a wild kingdom that BSA students bring to life with vivid colors and creatures. The dance moves are contemporary and interesting with the theme of pairs carrying through to the triumphnat finale. 3-D video projection on numerous screens and on the dancers and props on stage transformed the stage into a spectacular sight. All of the performers were BSA students, including the technicians and the musciains, who played a beautiful, original score composed by Marcos Balter. Codex also featured a "Shadow Dance" directed and choreographed by Katherine Helen Fisher with Catapult Entertainment's Adam Battelstein. To see the program with all of the show's credits, click here.
Spring 2014
BSA's students presented Balanchine's Serenade, Tchaikovsky's Serenade for Strings, and other works in A Russian Serenade. The 2nd festival culminated a year-long look at Russian art and history in both academics and arts classes. Chekhov's Three Sisters, was directed by Donald Hicken and presented by BSA's senior acting ensemble. Serenade was choreographed by Deborah Wingert of the Balanchine Trust. BSA alum Andrew Grams conducted the musicians performing with the dancers. The program also featured orchestral and choral works by Rachmaninoff, Shostakovich, and Tavener. Student academic and visual arts projects were featured in the Sylvan Gallery and Nehra Theatre Wing. For a video recap, click here.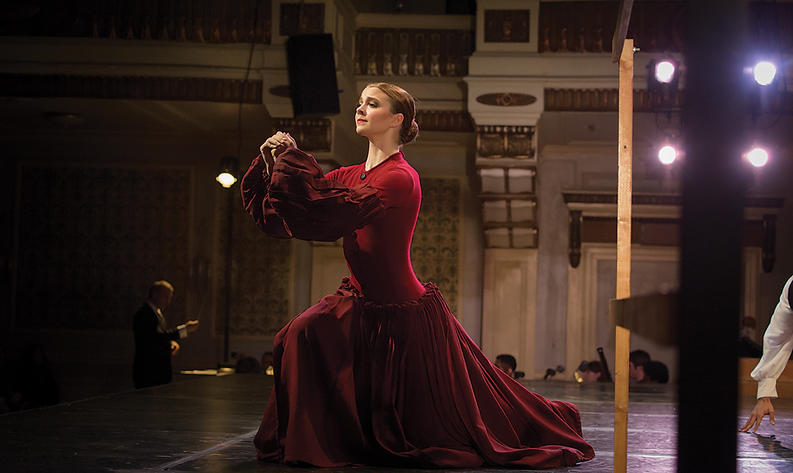 Spring 2013
Baltimore Magazine selected our first multi-disciplinary project, Appalachian Spring, as one of the best events of 2013. B-mag writer John Lewis reviewed the festival in April and summed it up for the "best of" issue. The groundbreaking performance of Appalachian Spring was also featured in print and online in both the arts sections of The Baltimore Sun and The Washington Post.
The iconic ballet Appalachian Spring by Martha Graham, Aaron Copland & Isamu Noguchi was brought to life by BSA musicians, dancers and actors in performances in April. Students shone in the first ever high school production of the classic. They trained and prepared with Miki Orihara, Regisseur with the Martha Graham Center for Contemporary Dance, and Aaron Sherber, Music Director of the Martha Graham Dance Company. Brian Floca, illustrator of the children's book, Ballet for Martha, also joined the festivities. An exhibit featuring student work based on the ballet and the 1940's rounded out the event.
City Schools did a wonderful summation of the event.
BSA students created a video recapping their journey learning about and preparing for the festival and performance of Appalachian Spring. To share their journey, click here.