All About Expressions at BSA!
For more than 30 years, Expressions has been one of Baltimore's beloved annual events. Both a critical fundraiser for the school and an opportunity for the community to gather and celebrate BSA's talented students, Expressions is centered on a performance by the school's dancers, musicians, and actors as well as an exhibition by its artists.
Expressions 2017 will kick off on Saturday, March 4, with the Gala Opening and on Sunday, March 5 with Family Performances. Tuesday, March 7 will be the Stage One|FANS performance. You can purchase tickets here.
We have a fabulous committee this year, led by co-chairs Mary Page Michel and Krissie Verbic. The committee includes: Emily Athanas, Alexander Baer, Krista Baker, Day Bank, Erin Becker, Susan Carey, Susie Chisolm, Ali Clark, Brian Comes, Dana DiCarlo, Wendy Doak, Anna Dopkin, Jill Eisner, Muffy Fenwick, Morgan Gilligan, Lisa Hardiman, Juliana Harris, Betsey Hobelmann, Jay Jenkins, Jennifer Keetley, Laurie Kelly, Georgia King,Shana Kroiz, Jennifer Langford, Elizabeth Linehan, Cindi Monahan, Colleen Mulroy, Mary-Ann Pinkard, Marika Pinkett, Leslie Polakoff, Samuel Polakoff, Joan Royals, Dara Schnee, Allison Simmons, Bernadette Solomon, Tracy Sutton, Brooke Thomas, Nanny Warren, Linda Weinberg, Shanae Williams, Tiffany Zappulla, Melissa Zieve, and Andrew Zill.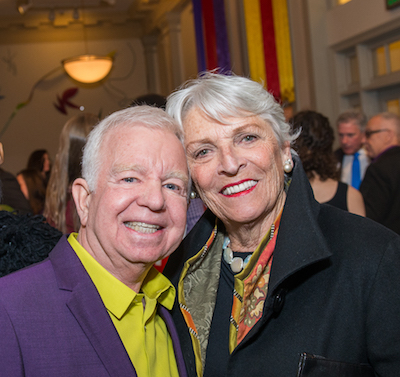 2017 Expressions Sponsorships Still Available!
Expressions is the centerpiece of the BSA's fundraising efforts each year and the sponsors make all the difference! Sponsorships fund everything from the school's performances and exhibitions to computers, textbooks and tutoring for the school's at-risk students; from scholarships for summer study and college to the very basics: paint brushes, pointe shoes, and play scripts that our city kids could not otherwise afford.
To learn more about sponsoring Expressions, give Carter Polakoff a call at 410-625-0403 or cpolakoff@bsfa.org. We're also delighted to introduce our Corporate Partners Program for 2016-17, an opportunity to couple your Expressions sponsorship with other giving to maximize your impact. To learn more, contact Jennifer McKinnell at jmckinnell@bsfa.org or click here.
---
Expressions Sponsors

Presenting Sponsors: M & T Bank, Patricia and Mark Joseph/The Shelter Foundation, Robert E. Meyerhoff and Rheda Becker, War Horse








---





Directors: Gallagher Evelius & Jones LLP, Kramon & Graham, P.A., Sylvan/Laureate Foundation, Venable Foundation, Inc., Linda Weinberg Conductors: William L. and Victorine Q. Adams Foundation/The Rodgers Family Fund, Day and Ray Bank, The Baum Foundation, Bge/An Exelon Company, Brown Capital Management, Camden Partners, The Annie E. Casey Foundation, Cohn Reznick LLP, The Cordish Family, Jay Jenkins and Alexander Baer/ Jenkins Baer Associates, Katherine and Larry Jennings, Cindi and Tom Monahan, Jeanne Murphy, RBC Wealth Management, Stifel, The Whiting-Turner Contracting Company Choreographers: Brown Advisory, The Philip and Harriet Klein Foundation, Poppy Schapiro Foundation, T. Rowe Price, Andrew Zill Curators: Cho Benn Holback & Associates, Floors Etc., Betsey and Greg Hobelmann, Robin and Don Hough, JLL Multifamily Capital Markets, Georgia and Wayne King, Jennifer Langford and Morgan Gilligan, Jennifer and Paul McKinnell, Mary Page Michel and Mike Morrill, Mikey and Patrick Monaghan, Saul Ewing LLP, Tracy and Patrick Sutton, Krissie and Dan Verbic, Tiffany Zappulla





---





Actors: Alex. Brown Realty, Jody and David Berg, Bozzuto Family Charitable Fund, Ellin & Tucker, Ernst & Young LLP, The Fedder Company/ Amy and Bob Pollokoff, Great Horn Financial Services, Ben Greenwald, Betsy and David Nelson, Mary-Ann and Wally Pinkard, Carter and Samuel Polakoff, The Polakoff Family/Anthony, Dorie, Lawrence, Leslie, SC&H, Natalie Sherman Stage Hands: The Agora Companies, Chesapeake Tile & Marble, Rachel and Ian Heavers, Laurie and Steve Kelly, Lillie Stewart and Bill Geenen, Melissa Zieve and Peter Berns In-kind: Chesapeake Beverage, Classic Catering Company, Feats, Inc.,Oasis Wine, Joe Rubino, VPC, Inc., The Wine Source After-Party Sponsor: Jenkins Baer Associates





---